Animal Workshop 2.0
This week we will start our first make up animal topiary workshop sessions this week.  On Thursday, May 14, we invite you to sign up for a time to come in and plant your animals and then take them home with you that day.  Thursday, May 21 is the next class day.
Click below to sign up!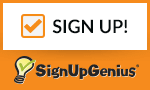 You are welcome to sign up for more than one slot if you have many animals to plant or want to take more time and thought!  We will have four guests at a time and each guest will have their own table.  If you have a relative that you are comfortable sharing a table with, you may certainly bring them, but just one of you sign up for the time.
There will be no cost for this make up workshop, just the cost of the plants and materials used.  It will be mostly a self guided session, with Trish and Mike on hand to answer questions.
We will add more dates next week, just want to make sure we have the timing and spacing right for this first trial run.
Thank you for your patience!  We look forward to seeing you!